Event Recap: Back2Pluto Invades Art Under Pressure
As many of you know, we here at Back2Pluto hosted our very first event in the DMV last Friday (January 18th) at DC skate shop Art Under Pressure. The show was a great success, with many people coming out to support us. Though it started off slow (a lot of artists were running late), in the end, it was a great night.
Local DMV hipster legend Stef ran the show for us, and flexed his crowd control skills magnificently. He started the night off with a cypher, a rite of passage for all of his shows. Next, the duo known as Cancer Manifest (JCizzurp + Michael Giles) and DC local Blizzy Blaque started off the show with their sets, and they definitely did their thing.
This was my first time seeing the 16-year old MC Aceology perform live, and I have to say I was impressed. He was able to control the crowd very well for such a young performer, and had a great set. Hearing "U.S. Hades" live was definitely one of the highlights of the night for me personally.
Next, we had the homies OG Dutchmaster and Black Zheep DZ come all the way from Baltimore to show some love. Though I wish they had longer sets, they really showed out for the time they had. Much to my enjoyment, OG Dutchmaster performed both "PSA" and "Raw Dope", two of my favorite songs by him. Black Zheep DZ killed his set as well, highlighted by him and Soduh bodying his latest release "3 Seasons". Hopefully this is only the beginning of B2P x LL7FV relations.
We had a brief intermission here, where legendary underground MC Substantial (widely known for his work with QN5 Records and Nujabes) performed 2 songs and dropped some real knowledge about the state of DMV hip-hop right now. In a nutshell, he said that we need to stop being crabs in a bucket and support one another. He spoke on the fact that we had DMV artists and Baltimore artists performing on the same bill, and that that was a great thing to see. I agreed with Sub 100% and I will try my hardest to keep the support flowing.
At promptly 10:32 PM, the infamous Kool Klux Klan took the stage for their set. Having been to Kool Klux shows before, I kind of knew what to expect, but with them, you can never really know what they are going to pull. We got performances from Cal Rips, CRASHprez and Sir EU during their 30 minute set, which as per usual, were exciting, hilarious and very random. Then again, there is never a set expectation for any Kool Klux performance; literally anything can happen.
The last 3 sets were by Grammy Family, Cortez Mars of Identity Krisis and Stef. What was supposed to be a rMell solo set happily turned into a Grammy Family live performance as Matt McGhee and CRASHprez joined him on stage, which lead to some pretty sweet songs being performed. Matt did my personal favorite song of his, "Permission", and CRASH and rMell performed the remix to "Awkward Tortoise". If you haven't witnessed the Grammy Family "Soul Train Line", you're definitely missing out. With Cortez Mars, this was my first time hearing anything from him, and I enjoyed it a lot. His blend of hip-hop and rock was unexpected, but was very refreshing and well done. I'm definitely gonna have to catch IDK live one day. Finally, Stef ended the show with 2 songs off of his recent release The Black Velvet EP.
Overall, I believe we had a very successful first show. We at Back2Pluto would like to thank everyone that came out to support, all of the artists, media and especially the folks at Art Under Pressure for hosting the event. We have more big things in store for you guys. Stay tuned for an upcoming recap video of the event.
All photos courtesy of Alexus Photography. More photos here.
- Dave
Dave's End Of The Year Rant (More like a year in review.)
Wait, y'all really thought you could exit the year without one last Dave rant?  Nah jo, y'all ain't getting off that easy.  I've been blogging about hip-hop for a good 4 years now, and honestly I haven't been more proud of hip-hop than I am right now.  This year has brought out some of the strongest releases in recent years, as well as some duds of course.  Overall, 2012 is the strongest hip-hop year in my history off blogging.  Here is my personal highlight film of 2012 in hip-hop, featuring many indie and mainstream artists.
5 Projects that I feel should be heard:
Nomad - NOCEBO 
DMV MC Nomad dropped one of the most slept on releases of the year with NOCEBO.  People really hit the snooze button on this one, one of the most cohiesive projects of the year.  I won't speak much on it, because I did a full-length review of it here.
JJ DOOM (MF DOOM and Jneiro Jarel) - Key To The Kuffs
New DOOM is always appreciated by me, and this left field collab with Jneiro Jarel did not disappoint in the slightest.  DOOM continues with the stream of conciousness raps we know and love, and Jarel brought forth the most experimental production DOOM has ever flowed on.  Now, where is Madvillainy 2 and Swift & Changeable at?
Ab-Soul - Control System
Control System is the project that made me a fan of "The Human Dictionary."  TDE ran shit this year, with three great projects.  Control System proved all of Soulo's claims that of "Ab-Soul, Abstract, Asshole," with tracks that relfect all three of those things.  Also, "The Book Of Soul" is my favorite track of the year.
ScHoolboy Q - Habits & Contradictions 
Continuing with the TDE love, ScHoolboy Q dropped, in my opinion, the best overall project of the year (Sorry Kendrick fans, I'm tired of talking about GKMC).  HnC is best described as "intellegent gangsta music," and there is literally a song for everyone on here.  Plus, seeing Q perform this album live is an experience everyone should experience.
Action Bronson and The Alchemist - Rare Chandeliers 
There is actually not much I can really say about this one.  If you haven't heard this project, you REALLY need to press play.  Bronson is arguably the best rapper rapping right now.  He flows for days on this project, with some of the wittiest lines of the year and excellent Alchemist production.
5 Projects That Lived Up To The Hype:
Kendrick Lamar - Good Kid, m.A.A.d City 
Is there really anything that needs to be said here?  Unless you've been under a rock since October, you've heard all the praise behind this album.  It's all true.  Go get it if you haven't already.
Roc Marciano - Reloaded
This album was hyped more by my hip-hop head followers than the masses, but the hype was definitely lived up to.  Reloaded was a cinematic masterpiece and is a surefire top-3 rap album of 2012
rMell - NEOGEO
After 2 years of waiting, rMell's first album did not disappoint.  Read my full album review for NEOGEO here.
Killer Mike -R.A.P. Music
Killer Mike, with assistance from El-P on the boards, dropped a great project with R;A.P. Music.  The beats absolutely slap, and Killer Mike provided arguably the best raps of the year.  An album both personal and accessible, definitely take some time out to peep this one.
Nas - Life is Good
Nas proved he could still drop a great album in this day and age with Life is Good.  A deeply personal album, Nas does his thing over some of the best production of his career (Something he's been know to struggle with).
My Biggest Disappointments:
Joey Bada$$ - 1999:  This wasn't a "this project was weak" disappointment, I expected a little bit more from dude after I heard Survival Tactics and Hardknock.  The sky is definitely the limit for the 17-year old MC.
G.O.O.D. Music - Cruel Summer:  This joint was so "eh" to me.  Except the album version of "New God Flow" with Ghostface Killah, that was pure flames.  That's about all here.
ASAP Mob - Lords Never Worry: For me, after all they hype behind this joint, it was a huge snooze fest for me.
And finally, 5 articles from 2012 you should read:
Digital Drop - Lupe Fiasco: Friend of the People or Enemy of the State
Yoh (Via Refined Hype) - Money Makin' Mitch Syndrome 
Complex Mag - 25 Things Everyone Thinks About Hip-Hop (But Nobody Will Say)
Pigeons and Planes - The 50 Most Influential Musicians That Never Blew Up
Me (Of Course) - Hip-Hop Fans Are Stupid
I hope you guys enjoyed 2012 as much as I did, and lets hope 2013 brings us even better music.  See you guys next year
- Dave
Album Review: rMell - NEOGEO
After nearly 2 years of hard work, dedication and saving FL Studio sessions, Maryland Rapper/Producer rMell, of Grammy Family and MDNK fame, has finally released his long awaited debut album, NEOGEO.  Sporting 13 tracks, production from rMell himself, and only four features, mainly members of Grammy Family, this is truly what you would call a solo release.  I am going to try out a new review style, where I will rate four aspects of the album, beats, lyrics, quality and cohesion, on a scale of 1-5, with an overall grade out of 20.  I now present: The NEOGEO Album Review.
Beats: 5/5
We all know rMell can make beats.  There was a time he resented being labeled as a "producer" and not a musician.  While at this point in his career you cannot deny him the title of a musician, the production on this album stands out the most about.  This instrumentation rMell uses on this album is vastly different that any of his prior releases, and it is arguably his best production (I'm partial to Hipsters & Hypebeasts, but this is way better, admittedly).  One thing that has always remained consistent is rMell's usage of left-field samples, and digging for them is always fun.
Lyrics: 4/5
I feel like I mention this every time a new rMell project drops, but seriously, rMell has made humongous strides lyrically.  Every rMell project showcases his progression as an artist, but they also showcase his progression with his lyrics.  He went from a lot of try-hard punchlines to being able to pull off clever lines with ease, i.e "Imagine being slept on for four whole years, that's a conscious coma filled with po-tent nightmares.  But now I'm up, feelin' myself, wiggle the big toe, the bigger the bank build up the closer the Benzo)" (Tarantino fans should catch that immediately).  However, this album isn't a treasure trove of lyrical gold, there are times where some lines do miss their mark.  This also isn't a Talib Kweli album, and it's not supposed to be one.  And for the most part, rMell's lyrics are very sound.
Quality: 5/5
NEOGEO sounds like rMell used all 2 years of it's making to make it as sonically perfect as possible.  I was given a short, unmastered version of NEOGEO about a month ago, and even though it was unmastered, it still sounded great.  Fast-forward to now, and the mastered version of the album sounds 20x better than the unmastered version, and the unmastered sounded better than a lot of indie projects that were released this year.
Cohesion: 4/5
Cohesively, NEOGEO flows well track to track.  The only problems I had with cohesion were with the tracks "Invitation" and "No Reset."  "No Reset" is one of my favorite cuts on the album, but it kind of threw me off with the placement because it comes directly after "Kangaroo Island," which has a completely different mood than "No Reset."  With "Invitation," the track was shorter that I would have liked, I felt like I was just getting into the song when suddenly "Bodies" came on.  Overall though, the album plays smoothly start to finish.
NEOGEO is easily rMell's best project.  When I finished listening to it, I felt like it was time to stop talking about how much rMell has been improving, and time to start saying how good he truly is.  I can honestly say that rMell is solidly one of the three best musical talents in the DMV area and NEOGEO proved, at least to me, that he's next in line for his due props.
Overall: 18/20
My Favorite Tracks: Settle Down, Untitled, No Reset, Raybans, Kangaroo Island, Some People Want
- Dave
Kendrick Lamar - Good Kid, M.A.A.D City
A Collaborative Album Review
by Mark II, Trap Basquiat, Yoh & Drop God
B2P's own Mark & Dave (TB) joined forces with Yoh of TheTapeDeck.net and Drop God of Digital-Drop.net at NYC-based art/lifestyle blog KidzREvil.com to review the highly anticipated GKMC LP by Kendrick Lamar. Two reasons why you should read the article:
This is a very detailed breakdown of the album characteristics by a unified analysis from 4 music bloggers from each coast. N (Drop), S (Yoh), E (Dave), W (Mark).
This review features Mark's new alternative review format that combines infographics with descriptive journalism.
Hip-Hop Fans are Stupid:  A Follow Up To Digital Drop.
Maybe I am late on this, but after reading my homie Drop God's article (which I highly suggest that you stop reading this and read his article first if you haven't), I realized something: hip-hop fans are stupid.  Seriously, we are.  Hip-Hop is one of (if not the most) opinionated genres in music, and it's fans are equally as opinionated.  However, hip-hop fans take being opinionated to a whole new level.   "You don't think Tupac is the greatest ever?  Oh, then you don't know hip-hop."  It's statements like this that make hip-hop fans look foolish.  Here are some more reasons why I feel like hip-hop fans are stupid.
Our Expectations For Rappers Are Too High For Their and Our Own Good
Look, I understand that you love a certain artist's music.  But we have to remember that no one is perfect.  ARTISTS CAN FAIL.  Nas is probably one of my 3 favorite MCs ever, but I know Nastradamus has pretty much earned coaster status.  It was laughable to me that people really looked forward to Dedication 4.  People really had high hopes that it would be the Dedication 2/Da Drought 3 Wayne that everyone loved.  It should have been a known fact that D4 was gonna be a Recycle Bin Classic.  We all fall victim to this, I think TDE is bound to save hip-hop.  I know, however, that this is a very outlandish statement (reaching, if you may).   Moral of the story: Stop reaching.
We Automatically Disregard Any Opinion That Contradicts Our Own
Have you ever been in a hip-hop debate?  Have you ever found it extremely difficult to get your point across whilst debating?  We all have.  That's because we as hip-hop fans love to stay in this box we've created for ourselves.  We just can't bear the fact that our favorite rapper may not be as good as we think he/she is.  Or maybe someone said that the beats on your favorite hip-hop album were weak.  Or that Rapper A would shit on Rapper B, lyrically.  Any of these debates would likely bring some die hard fans almost to blows.  Face it, most of the time we cannot accept differing opinions.  And I find this to be a problem.  Mainly because IT'S NOT THAT SERIOUS.  If you love Meek Mill, by all means, bump his shit.  If you think Jay-Z is the best rapper ever, do you homie.  Which brings me to my next point…
We Always Try To Find "The G.O.A.T."
The debate of all debates, who is hip-hop's "G.O.A.T. " (Greatest of All Time for the less acronym savvy)?  I can save you all the trouble of finding one, it is Jibbs.  No really, there isn't and never will be a "G.O.A.T. " of hip-hop.  Wanna know why?  Go ask 20 people who they think the best rapper every.  I guarantee you will get at least 7 different answers.  We're human, some of us can barely decide what we want to wear daily, how can you expect us to come to a consensus on ONE rapper to be the best of all time?  This debate is pretty much a waste of time, yet we always seem to find ourselves wasting characters and air about it.
We Are Petty
We like and dislike rappers for stupid reasons.  I met a girl who's favorite rapper is Wale because he's "sexy."  Not because his music is good, but because of appearances.  We dislike rappers because everyone else likes him/her.  We give passes to MCs because of their pass efforts.  Once again, contrary to whatever KRS-One may think, rappers are not gods.  They are human beings, treat them as such.   If you are going to judge a musician, judge them based on how YOU intemperate their MUSIC.  Not his/her looks, not what new J's they have months before the release, not the size of their watch or how many cars or hoes they have, judge the music.
We Claim To Support Our Favorite Rappers But *insert your preferred file-hosting site here* Their Album
"How DOOM hold heat but preach non-violence?" How can we claim to support an artist but steal their music?  That is completely backwards.  He's your favorite rapper, but did you buy his album?  We all do this.  I did this today matter of fact.  Hypocritical? Yes.  But it's silly, and somewhat sad.  And then we have the nerve to complain about an album like we actually bought that shit, b.  You can't complain about your favorite rapper not selling a decent amount of records if you yourself did not contribute to his sales.
I did not write this to bash hip-hop fans.  I myself have broken every one of my points in the last 12 hours.  It's life, we're human.  But, we as fans of probably the most scrutinized genre of all time need to sit back and think about how ridiculous some of our actions are.  Seriously, no other genre's fan base takes themselves this seriously.  Do you see pop fans in each other's faces debating whether "Toxic" or "Poker Face" is the best pop song of all time?  No, and do you know why?  BECAUSE IT'S NOT THAT SERIOUS.
Album Review: Osiris Green - OsirisMuzik EP
Osiris Green is an emcee from the DMV that we've been supporting since his days as Cyrus making some standout performances on our previous mixtapes The Runners File Vol. 1, Summer Wars and his collaborative project Foreign Pharaohs with fellow DMV artist Nomad. The new OsirisMuzik EP is his formal return after a brief hiatus.
One of Osiris' redeeming qualities is his very effortless and clean-cut vocal delivery. Every word can be easily absorbed due to his organized execution. This gives him an edge in collaborative tracks and stream of consciousness flow approaches. His vocal performance on this EP is consistent but teeters on the fence of monotony. For the most part, it's literally like the many moods of Kendrick Perkins in voice form; consistently gruff with slight variations throughout. As for concepts, Osiris sticks with a hybrid of lifestyle/braggadocio rap on every track. An animated-patterned one verse complaint about trifling women, "Osiris's Requiem (Repose of the Soul)" and the very visual car-cruising track "Camaro Dreamz" are the only tracks that seem to deviate from his formula, easily being the standouts of the EP. The production of OsirisMuzik (uncredited) seems very outdated with a heavy reliance on stock-sounding midi synths. While I do commend the effort of not relying on sampled beats, most of these tracks would definitely find benefits from a remix album by different, more dynamic producers. Overall, Osiris has elements of a pure emcee but needs to focus more on concept variation and beat selection on the next go-round.
Rating: 3/5
- Mark II
Too Many MCs, Not Enough Mics

Here's a quick chemistry lesson.  Saturation Limit: the point where a solvent can take no more of a solute.  After this point, the solute will just sit at the bottom of the solvent, and become what is formally known as a supersaturated solution.


Hip-hop right now is a supersaturated solution.  There are too many rappers, and not enough time, space or mics for them.  There are many contributing factors to this:

1. The (acceptable) quality of rappers has gone down significantly:
While this is subjective, and there are many exceptions to this, in my opinion the quality of the people that are accepted in hip-hop these days is significantly lower than it was in the 90s.  Because of this, you get a sense of "if (insert rapper here) can to it, so can I!". While this is also not that bad on it's own, when it's mind-state is in anyone with access to a mic, it begins to be a problem.  And because we have accepted this as the norm, we let this happen. Which brings me to my next point…

2. "Yes" Men:
This, in my opinion, is the worst thing to happen to hip-hop.  "Yes" men have blindly led thousands of MCs to pursue a career that they probably shouldn't have pursued in the first place.  Being a "yes" man is destructive to both the MC and the game itself.  By telling your mans that all of his shit is dope when it's probably baking soda is the reason why people get rapper spam 5 times a day, as well as a cause for the build-up of solute at the bottom of the hip-hop solution.

3. Ease of access:
It's extremely easy to sit down and say "Hey, I'ma be a rapper!" these days.  In the 90s, where the Internet was nowhere near what it is now, and not everyone had a computer, you couldn't just be a rapper.  You had to work for it.  Today, you can cop a mic from Radio Shack for $50, download Audacity for free, clear out a closet and bam, you're a rapper.  Now that is no disrespect to anyone who records like this, but it's mad simple to rap these days.  YouTube2MP3 a few industry beats and you have a mixtape.

Now this isn't supposed to be a bashing of the game right now.  I'm just giving my opinion on how I feel hip-hop looks right now.  As I write this, I am listening to one of my favorite unknown MCs right now.  Every time I listen to him, I wonder "Why the hell isn't this dude doing BIG things right now???"  Everyone has that same rapper I have, you wonder every time you listen to him/her why isn't everyone hip yet.   Supersaturation is the is the answer to that question.
Now, there are ways you can counteract this.  One easy solution, as a fan/friend, is to not be a "yes" man.  You will be 20x more helpful to a musician by criticizing his work, sincerely telling him what is good and what is trash, than filling his/her head with the idea that they can do no wrong.  No one benefits from lies, especially when it could deal with someones career.  Be a friend, they'll thank you in the long run.
If you are an MC, consider this:  Are you really cut out for the rap game?  Do you bring something unique to hip-hop?  Deep down, do you sincerely think you are a good MC (think long and hard about this one)?  If you can't give a positive answer to these questions, then consider whether you should dive into this solution.  You could save yourself a lot of time and money. 
Album Review: Mike Of Doom - Of Doom
Download Of Doom
Since fools wanna throw shots at the boy, here is the long delayed review of DMV rapper Mike of Doom's latest release, Of Doom.  Of Doom is the first solo project I have heard from young Mike of Doom, and I have to say I enjoyed it.  A rather long project, Of Doom is a compilation of beats, production credits, features and solo songs from the last 2 years of Mike Of Doom's music career.
While Of Doom's primary focus is to show the variety that Mike brings to the table, what stands out like a sore thumb is the production.  Mike of Doom is one of my favorite producers in the game right now, that's the WHOLE game not just the indie scene, and Of Doom further solidifies that.  The production credits that he has put on this album are all exceptional, headlined by Matt McGhee's "Tiara" and Sir EU's "Frills," as well as songs from other Mike of Doom affiliates.  I did feel like some of the artist's work were kind of lackluster, but since those tracks were there to show off his production skills, it isn't that big of a deal in the long run.  Moving right along, Apollo Creed is simply the shit.
I only found two things that stood out to me that I didn't like.  Firstly, the project is long.  24 tracks is long for anyone, though surprisingly the entire project falls just shy of 62 minutes, which is very reasonable for any project nevertheless for a project with 24 tracks.  Secondly, it's needed more cowbell…not really, but it did need more solo bars from Mike.  I think that if he replaced 2 of the production features for some more solo work *cough* "The Mane" *cough*, the project would have benefited from it.  At times, it seems like a label compilation rather than an artist's compilation.
Overall though, Of Doom is very, very good.  It really shows the full spectrum of the artist, and is one of the best compilations I've heard in a while (compilations usually suck, in my opinion).  You guys should check out Apollo Creed, Coke Filled Montage, Frills, Tiara, Grim McMahon,  She's Lonely But Loves Jazz, Ultra Ray and Yeah Ho.
Overall: 8/10
The TapeDeck and B2P Connect: Yoh x Dave - Issues 10 Tips Rappers Need To Know So People Won't Hate Them
Recently, I collabed with my homie Yoh over at TheTapeDeck on a post about rappers.  Specifically, 10 tips for new/aspiring rappers so that they kill their fan base before they acquire one.  Here is a quick intro:
This isn't a rant nor a bashing of "rappers", more so, two chilled black guys with exquisite taste in words and just enough free time to give out a few price-less gems for the new generation of "rappers". I want to thank Dave for leaving Pluto for a bit to collaborate with me here at TheTapeDeck. Hit the jump and bask in the greatness of the information we bestow upon you, we really deserve $9.95 for the evolution this write up will bring forth. Its ground breaking, I'm ready to party at my Nobel Peace Prize ceremony already…
Click here to read the full post at the The TapeDeck 
Shoutout to the homies at TheTapeDeck for letting me flex a lil
Advice to Aspiring Rappers: Rapper Spam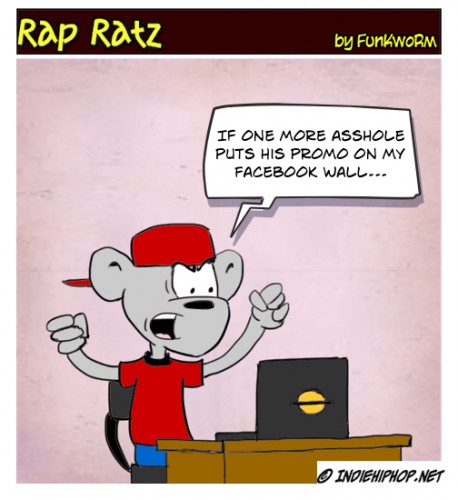 (image via)
We all hate it, don't we?  We all know THAT rapper, the one rapper, that does nothing but spam youtube link after youtube link after youtube link of his "hot new single" (if we are lucky, maybe there's a Soundcloud link thrown in there, we can only hope).  Rapper spam, along with pop-ups, actual spam and viruses, is one of the most annoying things about this beautiful thing we call the internet.  Now, we, especially myself, are all for rappers spreading the word about your music (if you are good, I'll get to that later).  However there is a difference between promoting your music and spam.  Here's the breakdown:
(Anti)Social-Networking
Nowadays, almost everyone has a Facebook and/or Twitter; there are quite a few tumblr'ers and a few stragglers on their Myspace grind.  But here's the thing, the point of a social network is to be *drum roll* SOCIAL.
Yes, as stupid as this sound to repeat this fact, you are supposed to be social on social networks.  But have you actually seen some of these "indie" rapper's twitter pages? It usually goes something like this:
HERE'S THE HOT NEW SINGLE BY (insert rapper name here) (youtube link) RT RT RT RT RT!!!!!!

WORLD PREMERE (insert rapper name here) DROPS NEW FREESTYLE OVER WHATEVER THE POPULAR BEAT IS AT THE TIME (youtube link) RT RT RT RT RT RT RT RT!!!!!!

*and if they are resourceful*

NEW VIDEO FOR (insert rapper name here)'s SINGLE (Name of song) (youtube link) RT RT RT RT RT RT RT RT RT RT RT RT!!!!!!

(repeat for 50,000 tweets)
What these rappers fail to realize is that this makes them seem like a robot.  It defeats the entire point of a social network if you just use it to endlessly spam your music.  You are just being a hollow spambot, on the same level as the ones that spam free iPhones all day. You may be a real person, with feelings, and thoughts, but you don't reflect that if you use your social networks like this.
Feedback
I wish more rappers paid attention to this, there would be way less rapper spam in the world.  Check it, so say you tweet/post on Facebook the link to your new freestyle, lets say, 50 times.  If you only have 30 views and one like on it, why keep posting it?  
I keep posting it because people who didn't get a chance to hear it might listen.

I hear this a lot when I'm speaking to my rapper friends.  But here's the thing, this is most likely only valid up to the 10th time you've posted it, and I'm being lenient.  You only have a certain amount of followers and Facebook friends, so most likely if you have been spamming all day, the amount of people that want to listen to your track is capped.  And if you aren't getting positive feedback, or any feedback for that matter, from anyone other than "your homies," then you might want to go back to the drawing board.
False Advertisements
I'll make this one quick.  On Youtube, don't tag anything that is irrelevant to the music you're putting out.  Tagging "Young Jeezy" or "Beyonce Naked" in your video will only make people angry, and probably hit that dislike button.
In conclusion, be a human being, use common sense and be real, fam.  This is all we ask of up-and-coming rappers today. 
(P.S. If you emailed us, we got it, please don't send it 20 times)
- Dave, B2P writer
Questions, comments, agree, disagree? Drop off a comment in the box (don't reply to the post, we won't be able to respond, we luh da feedback.)